Drivers interested in travelling across Europe this year are being advised to familiarise themselves with unusual road signs they might come across in European countries.
Car rental specialists StressFreeCarRental.com have revealed 13 road signs holidaymakers and business people are likely to see on their travels.
Despite a general uniformity and standardisation, some European traffic signs present relevant differences between countries.
Different colours and images have been adopted on some signs, and whilst most are fairly easy to work out, others might require prior knowledge in order to decipher them on the road.
A spokesperson from StressFreeCarRental.com said: "The past couple of years have been uncertain with travelling due to covid but things are now looking hopeful. That's why it's important for travellers to familiarise themselves with these road signs if they're looking to travel around Europe.
"We've researched the most unusual road signs so that drivers can be prepared when they're in a foreign country.
"Understanding driving rules in other countries is crucial and if you're getting behind the wheel you need to be prepared in order to keep yourself and others safe."
1. Traffic queues likely ahead (Belgium)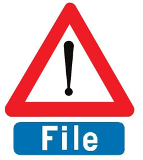 2. Hospital (Norway)
3. Bus lane (Estonia)

4. End of all restrictions (Iceland)
5. Tunnel (Italy)

6. Residential Zone (Sweden)
7. Pharmacy (Germany)

8. End of priority road (Spain)
9. Level crossing without barriers ahead (Ireland)
10. Crossroads with priority to the right (Greece)

11. Caution, fog likely (Czech Republic)

12. No horns or excessive noise (Turkey)
13. No overtaking by heavy goods vehicles (Slovenia)

https://www.stressfreecarrental.com/en/usa
The sign of the featured image means No vehicles carrying water pollutants are allowed.